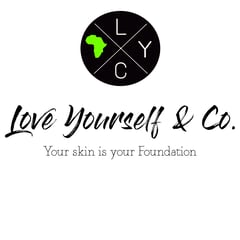 HerStory
My Proverb
Love Yourself & Co. is an Afrofuturistic conscious Facial care brand and lifestyle brand connecting our tribe to the Diaspora. We pride ourselves on providing wholesome organic and natural skin care products all, especially the melaninated. Our Lifestyle merch promotes self-love and celebrates the movement #Loveyourself.
Love Yourself & Co (LYC) was established in 2013 in Rochester, NY and relocated to the DMV area in August 2016. It was developed in the philosophy that Beauty and Fashion can be conscious as well as DOPE at the same time. The Love Yourself & Co. Brand embodies the movement of the African Diaspora and spiritual healing through building self-awareness and self-love. LYC is more than just Homeopathic skin care products, services, and clothing. Our Mission is to foster SELF-Love in our communities and promote POSITIVE self-care.

Chimere LaCole is licensed in the field of Esthetics for over 10 years in the New York and now Maryland. She is also an aspiring Herbalist, who practices holistic skin care practices. Her motto is " More earth and less Science"